For ensuring your smooth planing trip it is advisable to book your holiday several months in advance.Since tourism started relatively recently in Bhutan, tourist infrastructure is still limited. There is also a limited number of flights in and out of the country. This means that peak season can be quite busy, so the earlier you book, the better chance we have of securing flights and good hotel rooms for you. At festival times you may need to book around four or five months ahead to get flights, especially if you are unable to be flexible and are tied to a particular date.
The Bhutanese tourism industry is founded on the principle of sustainability, meaning that tourism must be environmentally and ecologically friendly, socially and culturally acceptable and economically viable.
Guided by the unique tourism policy of "High Quality and Low Impact" set by the royal government of Bhutan, it's a mandate to book your trip through a local travel agent like us and must take a minimum package, which includes all your arrangement including your visa.
The minimum daily tariff is set by the government with all the requirements to be provided to the visitors. Once the dates and the itinerary are finalized, we will send you the invoice and you have to wire us the tour payment. With regard to tour payment, bank transfer is the only possibility to transfer payment to Bhutan. Credit card and online payment system is till not available in Bhutan.
Once the payment is received, we will apply your visa. All you need to do is, fill the visa application form which we will send to you. Fill it, sign it and attach a photo and email it back to us.
Once we received it, we will apply your visa and send you the visa approval letter. This letter will allow you to board in to the flight to Bhutan. Actual visa is granted upon your arrival in Bhutan.
We will send the visa approval letter one week prior to your arrival date in Bhutan. In case of any exception, on your demand we can send you the approval letter before in hand. For your information, tourist visa NEVER gets rejected so do not worry. The company remains guarantee once the trips is booked and paid.
How Do I Confirm My Booking?
Payment for your trip is made via bank transfer to Bhutan through the Tourism Council of Bhutan.
We will provide you with bank details once your choice of trip is confirmed. Please note that it is not possible to make payment by credit card as the payment has to be routed through the government's account and is not paid direct to our company.
Payment should be made at least 30 days in advance for cultural tours and treks and 60 days in advance for trekking .
During the high season (March–May, September–November), it is advisable to dispatch payment for Druk Air flights at least three months in advance to allow us to confirm seats. Once we receive notification from the bank that your payment has arrived, we will send you a formal trip confirmation and receipt.
Tour program booked and subsequently cancelled shall be subject to cancellation charges as follows:
within 30 days of start of programme: no charges
within 21 days: 10% of rate
within 14 days: 15% of rate
within 7 days: 30% of rate
less than 7 days or without notice: 50% of rate
after arrival in Bhutan: 100%
All Tour Payments must be settled one month in advance of commencement of Tour to clear the visa and other necessary documents. The Tour booking will be confirmed only after we receive 100% of the Tour payment. During high seasons, especially during festivals, payments should be sent as soon as possible (7 months or more) due to limited availability of flights and hotel rooms.
Payment must be sent using wire transfer in US Dollars. Details of the bank transfer (account number and SWIFT code) will be sent when you are ready to make the payment. If you are unfamiliar with wire transfers, please visit your bank in person with the transfer details and they will be able to assist in making the payment.
Unfortunately, we are not able to accept credit card payments for tours at this time.
Till Bhutan embarked on a planned economic development in the early 1960s, Bhutan remained cut off from the rest of the world. The country was accessible only by foot. The two main entry points to the country was the North (was from Tibet crossing high passes) and the South (was through the plains of Assam and West Bengal).
Today the main points of entry are through Phuentsholing in the South that links Bhutan with the Indian plains of West Bengal, through Gelephu and Samdrup Jongkhar that links with the Indian state of Assam. Bhutan is connected through airline by our only International Airline - Druk Air. Druk Air is the national airline of Bhutan and in 2013 Bhutan was again connected by her first private airline - Bhutan Airlines.
The country has so far only one international airport that caters to the needs of visitors coming in through flight. However, within Bhutan, there are domestic flighs to Yonphula in eastern Bhutan, Bumthang in central Bhutan and Gelephu in south-central Bhutan. The international airport at Paro is located at a height of 7,300 ft above sea level and sourrounded by mountains and hill as high as 16,000 feet. Druk Air flies to destinations that includes Bangkok, Delhi, Kolkata, Mumbai, Bodh Gaya, Dhaka, Kathmandu, Guwahati and Singapore.
The flight between Paro and Kathmandu is one of the most exciting one as the aircraft passes over four of the five highest mountains in the world. In fine weather, as you soar higher up, you can enjoy the spectacular display of Mt. Everest, Lhotse, Makalu and Kangchenjunga at their best.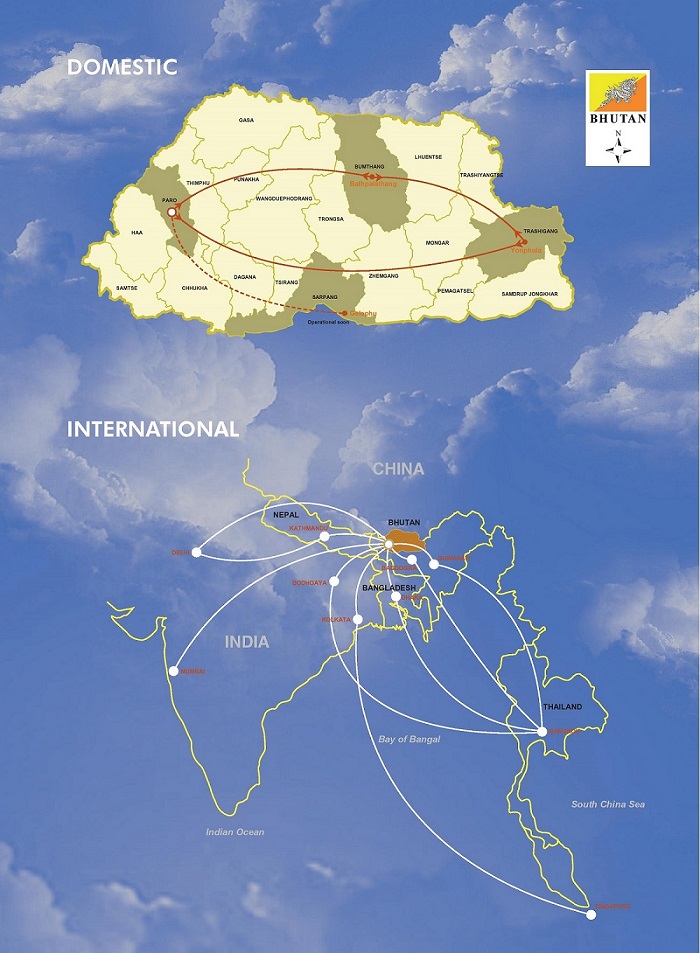 Phuentsholing, Gelephu and Samdrup Jongkhar in eastern Bhutan are the only land border areas open for international tourists. The town of Phuentsholing is located approximately 170km east of Indian national airport Bagdora and Phuentsholing is 176 km south of Thimphu.
Gelephu in south-central Bhutan is another entry point to Bhutan. It is approcimately 250 km from Thimphu and the journey will take you through the sub-tropical areas of Bhutan.
Samdrup Jongkhar is the only entry point in eastern Bhutan. The tourists entering Bhutan through Samdrup Jongkhar will take you to Trashigang, the largest district of Bhutan and from there over the lateral route to Mongar, Bumthang, Trongsa, Wangduephodrang and then finally ot Thimphu.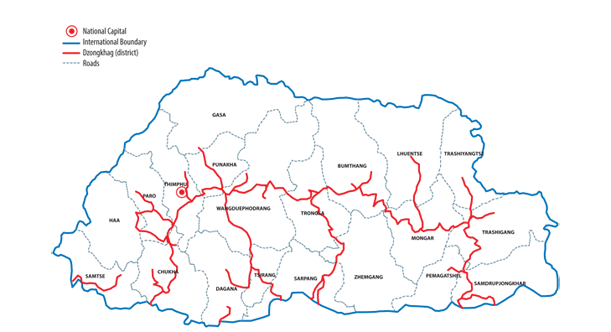 There is no charge for delays in arrival and departure because of weather conditions, disrupting flights or road blocks. The tourist must however bear the cost of food, accommodation, transportation, and other services required.
Note: INR (Indian Rupees) denominations of 500 and 1,000 are not accepted in Bhutan.
The Royal government of Bhutan sets minimum selling prices to Bhutan and it must be paid in US dollar prior to arrival in Bhutan as follows :
Tourist tariff is US Dollar 280 a day as per the government rules.
High Season Tariff - USD 250 per person per night for the months of March, April, May, September, October and November.
Season Tariff - USD 200 per person per night for the months of January, February, June, July, August and December.
The Minimum Price Includes
- All internal taxes and charges (including the royalty)
- Accommodation (unless you choose for luxury hotels for which you pay a supplement)
- Meals (Breakfast, lunch & Dinner excluding Beverages)
– A licensed tour guide and driver through out your trip
- All Internal Transport
- Camping Equipment and Haulage for Trekking Tours